As we know that when we built any house or building so we save a special space or area for kitchen.becuase kitchen room is the basic need for every person. Therefore for safety purposes we used some special skills to prevent kitchen from any damage. Just like for kitchen side wall, we used some special paint for decorate the kitchen or paint also work as an insulation for wall. Just like we paint the overall house for decoration and for insulation, so for kitchen paint also so necessary, so the project of painting is not a difficult task to perform. For painting some tools used just like paint brush or paint prays, rollers on large expanses of wall and different brush on different sizes.
How to Choose kitchen Paint Color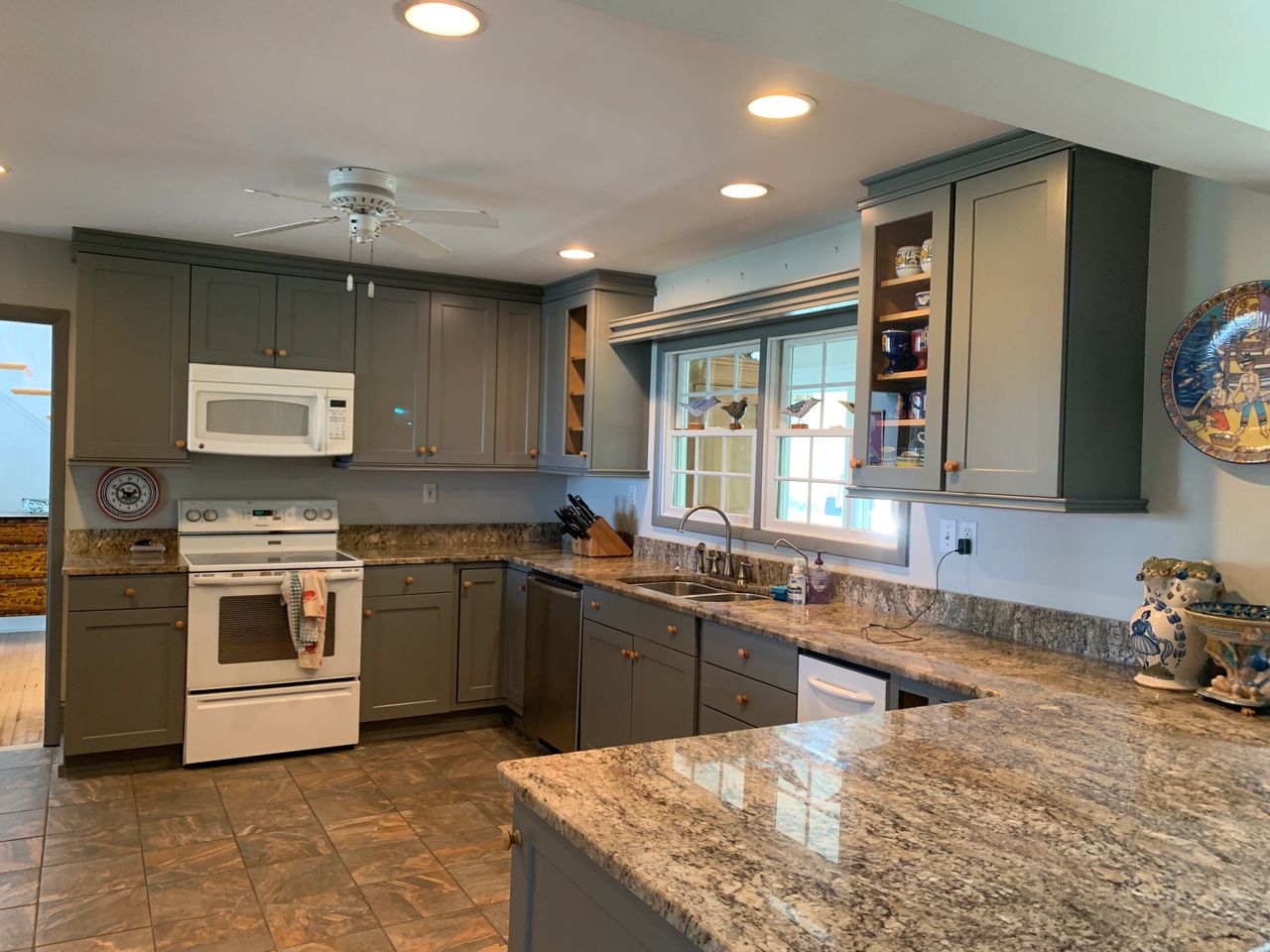 This is very important task to choose the best color for your kitchen wall. This depends upon only on your house design or place of your kitchen present.so the best kitchen color having huge impact with the idea of food and eating.
Choosing best paint
Basically paint having much of colors, some colors are dim and some are shine, so paint finishes having different spectrum of colors on paint fan. Spectrum is not a color rather it's a glossiness. Chose color for your kitchen carefully not be most shinny or not glossiness.
Area selection for painting
If u want some area to paint so used footage method so u can guess the area or figure out that how much paint used for painting. Used square footage of your walls for this purpose.so square footage of each wall after measuring now multiply with wall length or height of wall just like area formula. After it adding all wall and find the final total result. Floor construction with tiles so there is a problem created in measuring the footage square method. Cabinets and other appliances having a lot of spaces so avoiding from this problem you try to measure room before applying these all appliances.so if room is empty so its measures easily with footage square method.
Used cleaning method before painting
Before painting cleaning the overall wall is so important. Because if sticky particles present on wall just like gum type or also dirt or sediment particles present.so paint can't fill the overall wall. Same as cleaning is so important for those areas where the stove, oven present. For cleaning purpose used warm water or tri-sodium phosphate which is a strong chemical for removing any sticky material.
Priming
Priming basically is the method to refreshing the wall if it's in poor conditions.so if the paint is in good condition so there is no need of priming. But if the wall is in dry condition or paint spoiled every day.so much needed of priming in such a situation. Priming is done with roller tools on large areas, otherwise, we also used a brush for small areas recovering.
Brush used for painting
Brush used for painting is in different sizes. Some brushes is in small and some are in large sizes. Large brushes basically used for covering the larger areas, the same as small brush cover the small areas. Brush basically is so important for those areas where rollers can't reach. The brush used more times as compared to rollers but useful for covering wall and if brush capacity can be ended to further paint so its replacement easily and cost also low in price.
Additional coats helpful for painting
We used raining coats to abstain clothes from water, so as some painting coats also available in the market, by using these coats we save clothes from paint. When we painting the wall so much of chances that paint falls on clothes so same as gloves or coats used at any situation.
Huge mistakes avoiding method for painting kitchen
Don't clean wood before painting
Cleaning is the first priority of cleaning. Its advantage is that the grease or sand particles removes from wall easily. Same as for wood wall if the oil covered with the wood wall so when we apply paint upon it so paint won't stick. For cleaning purpose used tri-sodium phosphate or hot water.
Skip sandpaper
If wall or cabinets is in the best condition, but there is a chance that sand particles present upon wall also.so paint won't stuck upon the wall completely.so avoiding from such a situation used sandpaper having a spectrum between 150 or 200 grit is good, by using sandpaper we remove sand from walls. But this sandpaper is not be used upon wood doors.
Don't upraise cabinets before painting
Before painting it's necessary to prop the cabinets, because if this is not done then there is a risk of missing edges and corners.so small brush used for covering all these corners and edges such as top or bottom edges.
Can't using paint primer or priming?
When you have done completely your painting work, so after 1 to 2 months the painting wall becoming dry so priming must be necessary and knots in the wood becoming bleeding type through paint.so at this situation used primer for paint curse.
Painting the Surface in Wrong Order
When you painting upon wood door, so firstly paint the outside wall of the wood door. The reason is that because if painting is done inside the wall of the door and now starting painting outside and for this purpose we need to close the door. Due to this paint stick also with wall in the wrong order.
Selection of Wrong Color
But the same situation applies for cabinets then it's necessary to right the first time.so this job is easy for every person but this is not a job to make redo at any time because soon if you don't like color."